Guldfiskens minne
[ This text is also available in English ]
Tre sekunder / fem sekunder / trettio ...
Guldfiskar har utmärkt minne. De används ofta av forskare som studerar minne och inlärning.
On the first day, the goldfish took up to 20 minutes to learn to avoid the high-voltage end. But, put back again a day later, it took them only two minutes to give it a wide berth.
Fiona MacRae beskriver ett sådant experiment (2006)
The fish, previously believed to have a memory of just a few seconds, can distinguish between different times of day and can also be taught to follow a routine, according to research.
Mark Henderson (2003)
Om vetenskapen någonsin trott på "guldfiskminnet" vet jag inte, men det måste i så fall ha varit före 1966, då nedanstående experiment utfördes.
In one experiment inspired by that theory [att "minnet" sitter i proteiner], University of Michigan Biochemist Bernard Agranoff taught goldfish to swim over a barrier, then injected them with puromycin, an antibiotic that prevents protein synthesis. When the injection was given hours after learning, it had no effect, suggesting that memory proteins had already formed. Injected just before or just after training, the drug prevented learning.
Time, 19 april 1971
Ännu lite tyngre stuff - här har två japaner studerat guldfiskars lokalsinne:
We found that goldfish exhibited spatial learning in a maze, the hole board task, which resembles the Morris water maze.*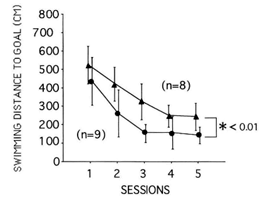 Ur Saito & Wanabe: "Mean swimming distance to the goal".
Kurvan med

visar resultaten för fiskarna som fick "rörliga mål", kurvan med

resultaten för fiskarna som hade lockbetet på samma plats i alla försök. Båda grupperna lärde sig spelets regler, de senare dessutom var betet fanns.
The present experiments provide a reasonable method to compare the spatial learning of fish with other animals. One of the characteristics of our maze task is that fish learned the spatial task quickly. They showed improvement within three training sessions. Such fast learning is similar to that of rats in the Morris maze. (...)
The present study showed that goldfish, like rodents, learned not only the fixed-route task, as in the Y or radial maze, but also the free-orienting (open field) task. This suggests that the capacity for spatial learning in goldfish is comparable to that of rodents.
Saito & Watanabe (2005)
* "Morris water maze" är ingen labyrint utan en liten bassäng fylld med ogenomskinligt vatten. I detta vatten placeras en gnagare; dess räddning är en plattform strax under vattenytan, som den alltså inte kan se. Runtom sätter man upp väl synliga prylar som kan vara till hjälp i navigerandet. Genom att upprepade gånger släppa ner samma djur i samma tank och analysera dess simturer kan man se hur (eller om) det lär sig något från gång till gång. Det var beträffande sådan inlärning som Saito & Watanabe fann att guldfiskar kan mäta sig med gnagare; åtminstone så är (det rumsliga) minnet hos en guldfisk jämförbart med det hos gnagare, utan något sagt om intelligens m.m. i övrigt.
Referenser:
Fiona MacRae, Bad Memory? No, Goldfish Have That Thinking Feeling, The Daily Mail, 25 januari 2006
Mark Henderson, Goldfish pass memory test, ur The Times, 1 oktober 2003
THE MIND: From Memory Pills to Electronic Pleasures Beyond Sex, Time, 19 april 1971
Agranoff , B. W., Davis R. E., Brink J. J. Chemical study of memory fixation in goldfish (1966)
Saito & Watanabe, "Experimental analysis of spatial learning in goldfish" (2005)
Wikipedia: Morris water maze