Leksaks-bomber
Det finns bomber och minor som är gjorda för att se ut som leksaker
Med tanke på mänsklighetens väldokumenterade förmåga att hitta på jävelskap så vore det kanske mest förvånande om man aldrig någonsin, någonstans, med flit konstruerat minor eller motsvarande i syfte att se ut som leksaker. Om någon kan finna belägg för sådant så vore det mycket intressant. Men en sak är klar: Påståendet att så skett är långt mycket vanligare än vad det finns grund för.
Obs: Försåtmineringar är ett annat kapitel. Denna artikel handlar om bomber och minor som sprids i mängd.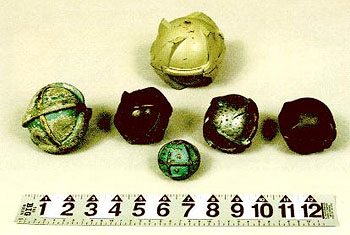 Klusterbomber. Obs linjalen har enheten tum.
Det absolut vanligaste är att man egentligen syftar på bomber eller minor som visserligen inte utformats för att se ut som något särskilt, men som av en sorts konstruktionsmässiga sammanträffanden även påminner om leksaker - rätt storlek, uppenbarligen tillverkade, inte sällan med klara färger - man kan fråga sig hur de skulle tillverkas för att inte se ut som något som går att leka med. Beskrivningar av sådana har sedan av misstag tolkats som att de med flit utformats som just leksaker. Detta har i sin tur blivit en god berättelse att tillskriva de som man uppfattar som skurkar, vilket i sin tur förstärkt möjligheterna att feltolka neutrala beskrivningar, i synnerhet när dessa missat att klargöra hur det faktiskt ligger till.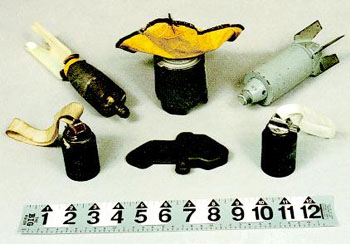 Fler bomber. I mitten en s.k. "fjärils-mina".
Citat som de följande kan också läsas på två sätt: att likheten med leksaker hävdas vara avsiktlig, eller ett sammanträffande. Det är ovanligt tydliga exempel på att man lätt läser in det man redan "vet" i påståenden.
... many bomblets are brightly colored, with others attached to small parachutes, making them look like toys and enticing kids to pick them up.
American Task Force for Lebanon
CTV's Denelle Balfour, reporting from Beirut, said some of the bomblets are easy to see, while others are brightly coloured and look like toys or batteries.
CTV
Även när kopplingen strängt taget inte görs så är det lätt att missa när man har den i bakhuvudet - citatet nedan kommer också från en artikel med rubriken "When toys kill".
Several of the recorded incidents of cluster bomblet explosions have been the direct result of children mistaking them for a toy.
Röda Korset
I detta sammanhang nämns ofta "fjärils-minor". I Vietnam fällde USA minor av typen BLU-43/B och BLU-44/B Dragontooth från flygplan över stora områden, formen gjorde att de inte föll handlöst utan spann ner som små helikoptrar. Med tanke på den uppmärksamhet som det kriget fick så är det rimligt att anta att faktoiden om "leksaks-bomber" dök upp, även om jag inte hittat några handfasta belägg för detta. Däremot fick den sovjetiska kopian PFM-1 mycket stor uppmärksamhet när den användes i Afghanistan, så till den grad att det kanske var då som uppfattningen slog ordentlig rot i det allmänna medvetandet.

PFM-1. Laddningen till vänster, "vingen" till höger.
Indeed, having grown sceptical of Presidential anecdotes, some Americans may wonder if Ronald Reagan was talking through his evil-empire hat when he accused Russians of sowing insurgent areas with bombs disguised as toys. The evidence isn't anecdotal. The evil is real.

[Felix Ermacora citeras ur en rapport till "United Nations Commission on Human Rights":]

"The types of booby-traps encountered include those resembling pens, harmonicas, radios or matchboxes, and little bombs shaped like a bird. This type of bomb, consisting of two wings, one flexible and the other rigid, in the shape and colors of a bird, explodes when the flexible wing is touched.
New York Times, 10 december 1985
Bortsett från att minorna knappast målades för att se ut som fåglar, så var det kanske inte läge att upplysa om att det rörde sig om en sovjetisk kopia av en amerikansk konstruktion. Vad de övriga grejorna beträffar så kanske nyckeln ligger i "resembling", snarare än "booby-traps", vilket som sagt är ett helt annat kapitel. Men se även Helsingfors-rapporten nedan.
Återigen: Det går inte att bevisa att man aldrig någonsin, någonstans, med flit konstruerat minor i syfte att se ut som leksaker. Det vore kanske mest förvånande om det aldrig inträffat. Däremot är det mycket vanligt att metoden tillskrivs den "onda" parten i en konflikt, även när det är klent med belägg.
Följande är det närmaste jag kommit - för vad det är värt. Rapporten kommer från Helsinki Watch, bildad 1978 för att se hur det s.k. Helsingfors-avtalet från 1975 följdes. 1988 omorganiserades man under det nya och sedermera långt mer kända namnet Human Rights Watch. Här följer ett avsnitt ur deras rapport To Die in Afghanistan från december 1985, alltså samtidigt med Ermacoras rapport ovan (obs dubbla citat, och de inleder med att citera sig själva; håll reda på vem som tillskrivs vad):
The 1984 Helsinki Watch report stated that it was impossible to confirm persistent reports of the existence of anti-personnel mines in the form of watches, pens, knives and other objects:
Almost from the start of the Afghan conflict there have been persistent reports of mines disguised as everyday objects, often objects likely to appeal to children. These reports are difficult to verify. No one has produced one of these mines for analysis, and those we questioned claimed that examples were impossible to produce because the mines exploded as soon as they were touched.
In 1985, however, the Afghan government apparently produced such examples at a press conference and attributed their use to "imperialists":
Kabul - At a press conference organized in Kabul by the Afghan news agency BAKHTAR, new evidence was presented of the terror methods that are a key element of the undeclared war waged by imperialism against the DRA. The instruments of terror, exhibited in the hall, did not outwardly resemble weapons. However, as soon as you take off the cap of a Flowmaster pen, move an arm or leg on a doll, try to use a lighter to light a cigarette, or attempt to set a watch, an internal explosive device will go off. There were also a set of miniature explosive devices used to booby-trap keyholes -- the device explodes as soon as the key comes in contact with it -- and a booby trap that looked like an ordinary pebble . . .

The press conference showed that the exhibited instruments of terror were intended for use against the civilian population. No matter what tricks the inspirers of the aggression use to feign love for the Afghan people, no matter how hard they try to masquerade as their protectors, they cannot hide their true, murderers' faces.
Det är alltså den sovjetiska marionett-regimen i Afghanistan (DRA) som förevisar imperialisternas "instruments of terror". Citatet återges utan att värderas, om man inte kan inläsa en sorts inlindad källkritik i formuleringen "apparently produced".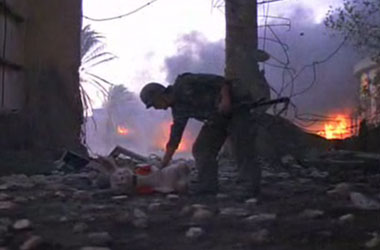 Full Metal Jacket: Försåtminerad leksak. I nästa ruta smäller det.
Relaterat: Matpaket som liknar bomber, eller tvärtom. Afghanistan än en gång.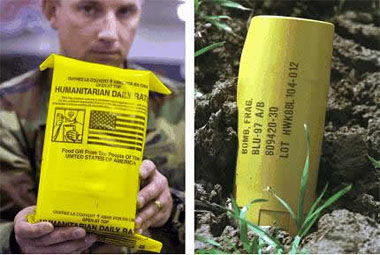 T.v. matpaket, t.h. BLU-97 klusterbomb
Embarrassingly, the bombs' yellow casing means that from a distance they are hard to distinguish from the emergency food parcels wrapped in yellow plastic that US planes have been dropping over the last few weeks.
BBC, 28 oktober 2001
Referenser:
Federation of American Scientists: Cluster Bombs
CTV: "Cluster bombs continue to kill after ceasefire", 25 augusti 2006
Jeffrey Benner, "The Case Against Cluster Bombs", Mother Jones, 28 maj 1999
Ragnhild Imerslund, "When toys kill", The Magazine of the International Red Cross and Red Crescent Movement 2000/2
*"Soviet Toys of Death", New York Times, 10 december 1985
Human Rights Watch: To Die in Afghanistan, sid 37-39 [PDF]
"Mat-bomberna":
BBC: Radio warns Afghans over food parcels
Se även:
BLU/BDU-Series Submunitions med bild på en mängd dylika
Tack till samtliga på Skalman som hjälpte till att reda ut denna fråga