"Luke, I am your father"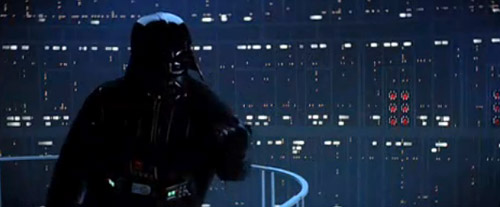 I Rymdimperiet slår tillbaka utvecklar sig Stjärnornas Krig (ni vet, Star Wars) till något av ett släktdrama när Darth Vader erkänner faderskapet för sin klentrogne son. Att det kollektiva minnet lyckats vränga till en så här enkel replik, om än aldrig så lite, är ännu ett tecken på faktoidernas makt, ifall det skulle behövas. Ovanstående citat är aningen käckare och användbarare än det fullt korrekta, vilket nog är anledningen till dess större spridning.
Spola fram ca 1:45 för följande dialog:
Darth Vader

If you only knew the power of the dark side.
Obi-Wan never told you what happened to your father.

Luke

He told me enough! He told me you killed him.

Darth Vader

No. I am your father.

Luke

...No. No. It's not true! That's impossible!

Darth Vader

Search your feelings. You know it to be true!

Luke

Noo! Noo!
Bonus: En liten upplysning från Urban Dictionary ang. citatet "Luke, I am your father" jag tyckte att ni inte kunde vara utan.
A phrase that someone named Luke growing up in the 1980's would hear at least twice a month by random people who always make a ridiculous attempt to simulate James Earl Jones' voice. They usually follow up by saying "I bet you never heard that before!"
Referenser:
Star Wars Episode V: The Empire Strikes Back (1980)
Wikipedia: List of misquotations
Manus: Star Wars episode V: The Empire Strikes Back
Urban Dictionary: I am your father
Tack till Björn Abrahamsson som tipsade om den här faktoiden